Why I made my webplace

Pia's Knitting cottage
This page started like this!
(N.B. This part isn't true, it's just FANTASY!)
"Here you can find and order your favourite sweater! I am a former highschool teacher, who got burnt out from my job. I have now disablement pension and I spend my time knitting sweaters for you in my little cottage in the Goingewood in the south of Sweden."

But it all started that way, when it was a schoolwork in my webdesigncourse at a grown-up-school, autumn 2001, in Sweden. We should do a webplace either for a union, which
have some connection to our community or introduce our own business company.

My contribution became my own little business company "Pia's Knitting Cottage". It had also a connection to my community, when I said it was in the Goinge wood (but the photo on my indexpage we have taken on a holiday in another part of Sweden called Dalarna.)

Because of my company doesn't excist (and I'm not at former highschool teacher either) I have taken
away my page where people could send their orders to me.

The reason for my decition to make a Knitting Cottage was due to my teachers demand of only
using our own photos. So what should I do? We hadn't much time and I had no digitalcamera then.
I had to start searching for my material in my old photo albums. And I found what I was looking for!
I had proudly taken photos of my children in their homeknitted sweaters I made for them and also
to other children. A bit of retouch on the photos (actually more than a bit, it took awfully much time
for me to do it) but then my material was ready! The patterns on my sweaters I have embroidered
on top of the stitches afterwards.

The child on the photo on this page is our son when he was young. Time passes so quickly.
I don't think if was long ago he was sitting there in our garden and smelling the peony.
He is wearing one of the first sweaters I'd made in my whole life. A very simple model with only
straight pieces that I sewed together.
Knitting cottage entrance

Want to mail me?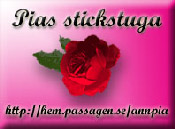 Copyright © Pia's Graphic, 2001

This page on the net since 2001-12-14
in english from 2004-01-01
(Updated 2004-01-01)
New counter 2010-02-07

Reserv

82 besök 2010-08-22
78 besök 2010-02-07
66 besök 2009-12-28
63 besök 2009-02-12
61 visits 2009-01-21
49 visits 2008-10-02
46 visits 2008-04-13
Lost old statistics
40 visitors on this page
from 2005-01-09 - 2007-09-01

30 visitors on this page
from 2004-01-01
until I left Passagen 2004-04-17